Yellow Corporation, one of the largest trucking companies in North America, filed for Chapter 11 bankruptcy in August of 2023. The company's operations encompassed local, regional, national, and international service offerings, with approximately 14.2 million shipments made in 2022. Following bankruptcy-related service disruptions, customers must source alternative carriers for their shipments. SupplyChainMonitor forewarned of Yellow Corporation's high bankruptcy risk via the FRISK® score while our peer analysis feature is providing clients with trucking alternatives to prevent future disruptions.
CreditRiskMonitor is a B2B financial risk analysis platform designed for credit, supply chain, and other risk managers. Our service empowers clients with industry-leading, proprietary bankruptcy models including our 96%-accurate FRISK® score for public companies and 80+%-accurate PAYCE® score for private companies, and the underlying data required for efficient, effective financial risk decision-making. Thousands of corporations worldwide – including nearly 40% of the Fortune 1000 – rely on our expertise to help them stay ahead of financial risk quickly, accurately, and cost-effectively.
Back to top
AI-Driven Bankruptcy Insights
SupplyChainMonitor™ provides clients with best-in-class bankruptcy prediction models compared to our competitors. In the case of Yellow Corporation, the company paid its bills promptly, but our 96%-accurate FRISK® score alerted clients of the mounting bankruptcy risk for more than a year. Importantly, the FRISK® leverages four high-quality data components, including:
Crowdsourcing, or the aggregated risk sentiment of our subscribers indicated by their group activities on the platforms
Stock market data, including volatility and market capitalization trends
Financial statements, factoring in ratios similar to, but in excess of the Altman Z''-Score, and
Credit agency ratings from Moody's, Fitch, and DBRS Morningstar
Based on SupplyChainMonitor™ data, Yellow Corporation's FRISK® score was in the high-risk "red zone" for more than a year, and fell to the worst classification of "1" for 10 months prior to bankruptcy. Through our subsidiary and parent relationship reporting, dozens of the company's subsidiaries and affiliated entities had high-risk FRISK® scores prior to disclosure in the bankruptcy petition.
When faced with a high-risk FRISK® score, we recommend to clients that they perform additional due diligence. Some valuable service features include:
The Management, Discussion, and Analysis (MD&A) Word Cloud. The tool flags high-risk terminology that frequently appears in corporate filings before bankruptcy occurs. Rather than reading pages of MD&A documents, users can click on these hyperlinked terms to immediately navigate to such high-risk statements. In this case, one of the multiple red flags stated that Yellow Corporation "will require substantial additional liquidity to satisfy these debt obligations"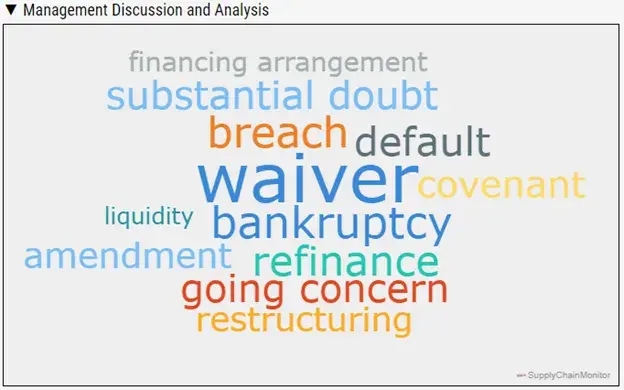 Financial Statement Ratios and Trends. Many of Yellow Corporation's ratios ranked in the bottom quartile of its trucking industry peers and certain levels were characteristic of bankruptcy-prone companies
Material Questions to Ask Your Supplier. There were multiple suggested questions shown on Yellow Corporation regarding its performance, leverage, and liquidity, as they measured poorly and trended negatively. Such points of interest help clients proactively engage with the supplier and take action to protect their own business

Once a heightened level of bankruptcy risk is observed, clients should implement risk mitigation procedures to limit exposure. In Yellow Corporation's case, informed logistics teams jumped into action in mid-July by shifting business to competitors, accelerating a rapid decline toward an operational shutdown by the end of July and Chapter 11 filing on Aug. 6. When finding alternative less-than-truckload (LTL) operators, sourcing experts need to identify companies with similar scale, capacity, and services as Yellow Corporation – but also importantly with stronger financial health.
Back to top
Sourcing Trucking Alternatives
SupplyChainMonitor™ enables clients to intelligently source supplier alternatives. To avoid stepping into another bankruptcy trap, our peer analysis feature enables users to select companies with detailed specifications. Selection criteria includes:
Industry (SIC and NAICS codes)
Location
Risk Level
Company Size, and
Financial Ratios
For example, trucking industry peers being ranked by the FRISK® score will display the financially strongest operators to help build supply chain resiliency. Comparatively, Yellow Corporation ranked at a FRISK® score of "1," indicating very high bankruptcy risk, whereas the other four LTL operators have trended between FRISK® scores of "7" and "10" over the course of the last two years:

The peer analysis tool also enables rankings by risk scores plus dozens of financial statement ratios and trends. Effectively, clients can identify the best ranked companies within a particular industry based on their financial health. Importantly, the FRISK® score (and other scores) act as the first line of defense. To facilitate a deeper analysis of the business, clients can review historical trends of financial metrics.
Among the LTL operators listed above, J.B. Hunt Transport Services Inc., Old Dominion Freight Line, Inc., and FedEx Corporation rank with the best FRISK® score of "10." Users can then rank each entity by other metrics, e.g., sales, margins, leverage, liquidity, efficiency, etc. Some clients might have their own score card while others may prioritize specific line items, such as total sales or view supplier report Names/Locations to ensure that the supplier has sufficient scale. Additionally, users can identify privately held trucking companies with the PAYCE® score and other risk metrics.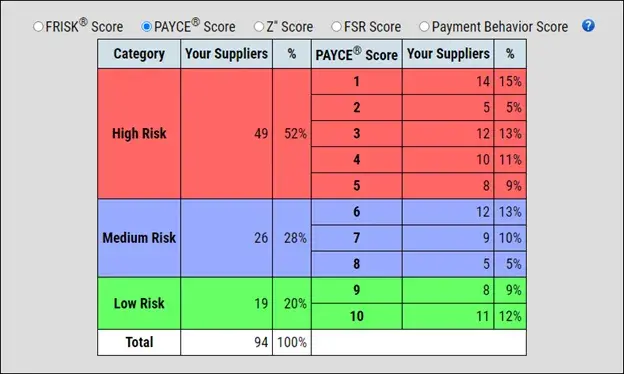 All these screening options enable clients to quickly identify the financially strong public and private entities, which saves time, effort, and money in the vetting process leading up to onboarding.
Back to top
Bottom Line
The trucking industry experienced a major public company bankruptcy in 2019 with Celadon and another in 2023 with Yellow Corporation, with many private bankruptcies in between. Unfortunately, there are still other high-risk entities across the trucking industry. In early August, another public trucking company, Daseke, Inc. (FRISK® "3"), reported weak Q2 results and reduced its 2023 outlook due to soft demand. This operator, among others, is worth monitoring looking ahead to 2024. To proactively mitigate similar supply chain risks, contact us to learn more about our unique approach to supplier discovery and vendor comparisons.
Back to top