Procurement teams constantly evaluate suppliers and broader risks that could trigger disruptions. Currently, supply chains are reorganizing supplier footprints outside of China due to severe country-related business risks. With more than 1,000 Chinese businesses already facing global sanctions, China ranks second in terms of sanctioned countries, following Russia.
SupplyChainMonitor™ enables clients to effectively identify alternative suppliers and enhance risk management processes. We will outline three major risk factors associated with China-based firms and how SupplyChainMonitor™ can help you address them.
CreditRiskMonitor is a B2B financial risk analysis platform designed for credit, supply chain, and other risk managers. Our service empowers clients with industry-leading, proprietary bankruptcy models including our 96%-accurate FRISK® score for public companies and 80+%-accurate PAYCE® score for private companies, and the underlying data required for efficient, effective financial risk decision-making. Thousands of corporations worldwide – including nearly 40% of the Fortune 1000 – rely on our expertise to help them stay ahead of financial risk quickly, accurately, and cost-effectively.
Back to top
Challenge No. 1 - Expanding Global Sanctions Against China
Sanctions against China-based firms, which are routinely expanding in size and scope, are a very real threat to commerce. Over 1,000 Chinese companies are currently sanctioned globally by regulatory bodies in the U.S., U.K., U.N., E.U., Canada, Australia, and Japan, as per SupplyChainMonitor™ data. In the U.S. specifically, the Office of Foreign Assets Control (OFAC) and Bureau of Industry and Security (BIS) have established sanctions programs and export compliance guidelines. Violations carry severe consequences, including penalties, fines, legal fees, reputational damage, product delays, and lost business.
SupplyChainMonitor™ aids procurement professionals in identifying sanctioned entities by providing detailed parent and subsidiary linkage information. Notably, some of the prominent sanctioned entities within China include:
| | | |
| --- | --- | --- |
| Company | Industry | Sanctions |
| Huawei Technologies Co., Ltd. | Communications Services | 12 |
| China National Offshore Oil Corporation | Oil and Gas Operations | 1 |
| CNOOC Ltd. | Oil and Gas Operations | 2 |
| Semiconductor Manufacturing International | Semiconductors | 5 |
| China Telecom Corporation Limited | Communications Services | 2 |
| AVIC International Holding Corporation | Aerospace and Defense | 1 |
| Hangzhou Hikvision Digital Technology Co., Ltd. | Security Systems and Services | 2 |
| Aviation Industry Corporation of China | Aerospace and Defense | 2 |
| Zhejiang Dahua Technology Co., Ltd. | Audio and Video Equipment | 1 |
| Fiberhome Telecommunications Technologies Co., Ltd. | Communications Equipment | 1 |
SupplyChainMonitor™ uncovers parent and subsidiary relationships, revealing associated entities and affiliations. For example, Huawei, one of the heavily sanctioned Chinese companies, operates through 140+ different business names and subsidiaries.
SupplyChainMonitor™ provides dashboards and supplier reports that reveal sanctioned entities, the issuing regulatory bodies, the sanctions lists, and other relevant details. Subscribers can utilize this information to ensure regulatory compliance when assessing current and potential suppliers.
Back to top
Challenge No. 2 - FRISK® Score Trends Uncover Financial Stress
Our research revealed a concerning trend of "Ratings Inflation" among China-based suppliers, where companies may appear financially stronger than they actually are. Traditional financial models like the Z''-score have underestimated risk, while the FRISK® score more accurately identifies the same firms as medium- or high-risk. When observe three analytical benefits when transitioning from the Z''-Score to the FRISK® score:
Low risk scores transition from 67.2% to 31.4% of all Chinese companies
10% more Chinese companies are newly classified as high risk
The FRISK® score is more consistent and useful across different regions
The FRISK® score measures financial stress on a scale of "1" (highest risk)-to-"10" (lowest risk), with a score of "5" or less indicating the high-risk FRISK® score "red zone." In Hong Kong specifically, only 29% of Z''-Scored businesses are classified as high risk, whereas 46% of all FRISK® scored businesses trend in the red zone, indicating an above-average risk of bankruptcy in the next 12 months. Importantly, the FRISK® score proves to be significantly more accurate at 96% than the Altman Z"-Score when the two are compared.
As of June 2023, the proportion of high-risk companies has reached levels comparable to the Great Recession and COVID pandemic.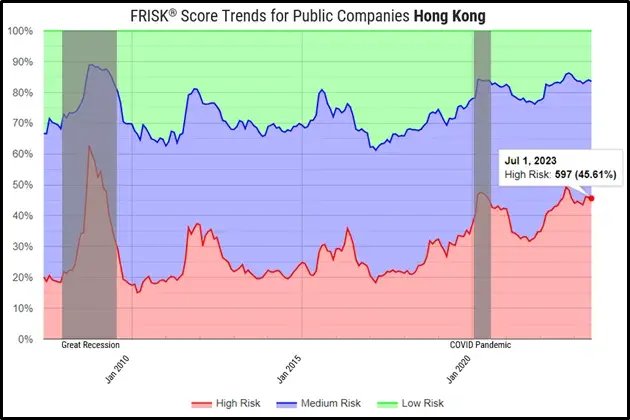 Among the high-risk group, most of these Hong Kong companies operate within the manufacturing sector. High-risk suppliers are typically the cause of severe and recurring supply chain issues as they struggle to preserve operating cash, often resulting in supply continuity issues and ultimately bankruptcy or corporate failure.
| | | |
| --- | --- | --- |
| Company | Industry | FRISK® score |
| Yanchang Petroleum International Ltd. | Oil and Gas Operations | 2 |
| Chiho Environmental Group Ltd. | Metal Mining | 3 |
| HKBN Ltd. | Communications Services | 3 |
| Esprit Holdings Ltd. | Retail (Apparel) | 3 |
| China Glass Holdings Limited | Construction Supplies and Fixtures | 3 |
| BeijingWest Industries International Ltd. | Auto and Truck Parts | 3 |
| VSTECS Holdings Ltd. | Computer Hardware | 4 |
| Gold Peak Technology Group Ltd. | Electronic Instruments and Controls | 4 |
| Computime Group Limited | Scientific and Technical Instruments | 4 |
| Sinomax Group Ltd. | Retail (Specialty) | 4 |
Supply chain fragility typically derives from high-risk suppliers. The FRISK® score, CreditRiskMonitor®'s proprietary and 96% accurate bankruptcy prediction model, informs procurement professionals of financial distress well in advance of failure.
Back to top
Challenge No. 3 - Severe Cybersecurity Threats Are Persistent
Procurement professionals must stay vigilant when conducting business in China, particularly regarding threats to cybersecurity and intellectual property. SupplyChainMonitor™ clients rely on Economist Intelligence Unit (EIU) data to gain insights into such risks and make informed strategic decisions. The EIU offers comprehensive data and analytics on 70 risk categories for 180 countries globally.
According to EIU data, China's overall security risk is average compared to other countries. In the next breath, the cybersecurity subcategory exhibits higher levels of risk. EIU ranks the likelihood of cybersecurity attacks in China at "3" on a scale of 0 (low)-to-4 (high), which is appreciably above many other regions.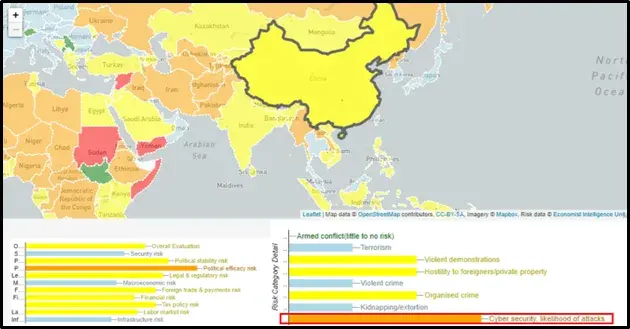 The EIU also provides frequently updated research and analysis for each risk category, typically quarterly or based on new developments. Within SupplyChainMonitor™, procurement professionals can evaluate this EIU data directly with customizable dashboards and supplier reports. With streamlined workflows, procurement professionals can make more informed decisions while analyzing their supplier base.
Back to top
Bottom Line
To mitigate the inherent business risks in China, supply chains are adopting strategies like China +1, China +2, onshoring, nearshoring, and friendshoring. Proactive procurement professionals are actively exploring alternative manufacturing hubs in the Asia-Pacific and Latin America regions. However, supply limitations are an issue as suppliers often operate at maximum capacity, i.e., resulting in restricted or delayed production. For example, companies that have shifted sourcing to Vietnam have experienced power shortages due to skyrocketing consumption of electricity, according to The Wall Street Journal. With the aid of SupplyChainMonitor, procurement professionals can plan strategically and source supplier alternatives while working to enhance resiliency and prevent costly business errors.
Back to top