The expiration date was Nov. 12.
On that day, American dairy giant Dean Foods Company filed for Chapter 11 bankruptcy protection. It was almost assuredly a sour event for the unprepared unsecured creditor of Dean Foods, as CreditRiskMonitor®'s FRISK® score had been signaling financial distress and high risk of bankruptcy for more than a year's time. With a FRISK® score that varied between "1" and "2," the read on Dean Foods each day was that its potential for bankruptcy was four-to-50 times greater than the average public company.
Unsecured creditors that rely on other credit reporting services may have been unaware of this bankruptcy risk because of misleading payment behavior. In fact, Dean Foods exhibited excellent invoice payment history (denoted by the consistent DBT Index of 9) in the 12 months prior to its bankruptcy filing:
Image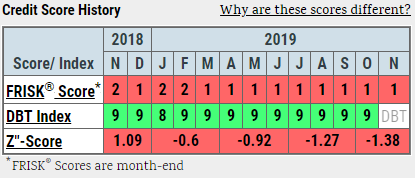 Effectively, payment history was misleading, while the FRISK® score provided an extremely accurate warning. CreditRiskMonitor® also detailed Dean Foods' financially distressed condition with an article in spring 2019 and a High Risk Report in summer 2019. In these assessments, we walked through the critical warning signs that subscribers received prior to the bankruptcy filing. 
According to Dean Foods' filing for period end Dec. 31, 2018, nearly two-thirds of current liabilities were account payables. Applying the same factor to the company's third quarter 2019, the last period before its bankruptcy, would put trade payables within the range of $400 million (excluding accrued expenses such as payroll, health insurance, customer rebates, and other liabilities). 
There are a vast number of suppliers that have been impacted by this bankruptcy. CreditRiskMonitor® subscribers, as a subsect of that group, had the advantage of being forewarned of Dean Foods' noticeable bankruptcy potential by keeping an eye on the FRISK® score. Such a warning would allow a credit professional to update their credit risk classifications and reduce risk exposure. 
According to the bankruptcy petition, the top 24 trade creditors had total exposures between $2.4 million and $173 million.
As the bankruptcy process moves forward, Dean Foods could restructure to remain as a standalone operator or be acquired by a competitor. Dairy Farmers of America might be a candidate given their business carries the largest unsecured trade payable claim.
Bottom Line
The FRISK® score revealed that Dean Foods had a high risk of bankruptcy for more than 12 months in advance of their Nov. 12 filing, allowing CreditRiskMonitor® subscribers to prepare for such an outcome. Credit and risk professionals employed by more than 35% of the Fortune 1000 and thousands more internationally are using CreditRiskMonitor® to stay ahead of bankruptcies like this one. CreditRiskMonitor® shows public companies within manufacturing (B&D Foods, Inc.), transportation (YRC Worldwide) and retail (The Fresh Market Inc.), among others, as financially stressed. Contact us today to stay ahead of risks like these in the years ahead.