While 2020 was a terrible year by almost any standard regarding public company bankruptcy filings, the first half of 2021 has been, in contrast, placid. CreditRiskMonitor®'s FRISK® Stress Index shows that several industries still have broader financial risk trends consistent with the Great Recession, even though they have certainly improved since the worst of the COVID-19 downturn. 
Here are four industry examples that risk professionals should remain cognizant of throughout the back half of 2021 that prove risk has receded, but not gone away.
Apparel in Peril
Image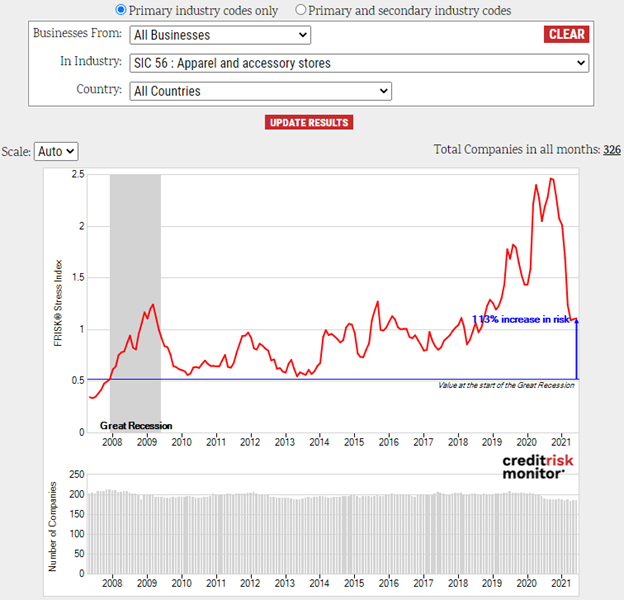 The Apparel and Accessory Store industry continues to exhibit elevated financial stress in 2021 based on an aggregation of industry participants. As mentioned in the introduction, the FRISK® Stress Index allows subscribers to track the overall risk of industries, countries, or customizable portfolios over the coming 12 months. A rising trendline on the graph above indicates increasing risk, while a falling line indicates diminishing risk. While some industries have improved since the pandemic, aggregated risk in this retail group continues to trend on par with the Great Recession:
| | | |
| --- | --- | --- |
| Company | Country | FRISK® score |
| Sequential Brands Group, Inc. | U.S.A. | 1 |
| TXM SA | Poland | 2 |
| Adler Modemaerkte AG | Germany | 2 |
A company with a FRISK® score of "5" or below is in the "red zone," which indicates elevated financial risk to our subscribers. Furthermore, a bottom-rung FRISK® score of "1" is an immediate alarm, signaling that the chance of bankruptcy over the coming 12 months is anywhere between 10% and 50%.
Eating and Drinking Places
Image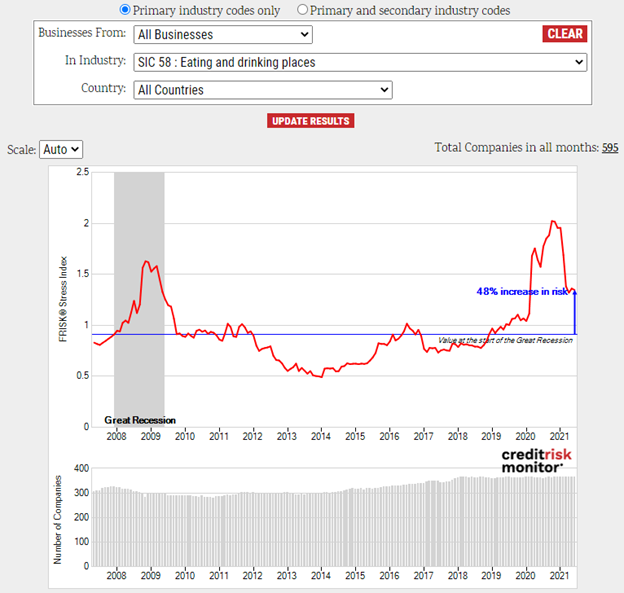 A similar pattern can be seen in the Eating and Drinking Places industry, with aggregate risk falling sharply but still at elevated levels compared to the Great Recession. For example, the three red zone companies below still need careful attention. Economies around the world are starting to lift COVID-19 restrictions, yet operators ranging from restaurants to food caterers continue to struggle under repressed conditions relative to pre-COVID.
| | | |
| --- | --- | --- |
| Company | Country | FRISK® score |
| Gategroup Holding AG | Switzerland | 1 |
| VIA Holdings, Inc. | Japan | 1 |
| Amergent Hospitality Group Inc. | U.S.A. | 2 |
Gategroup Holdings AG, with a worst-possible FRISK® score of "1", overlaps two problematic industries, in that it provides food services to airliners.
Transportation by Air Grounded
Image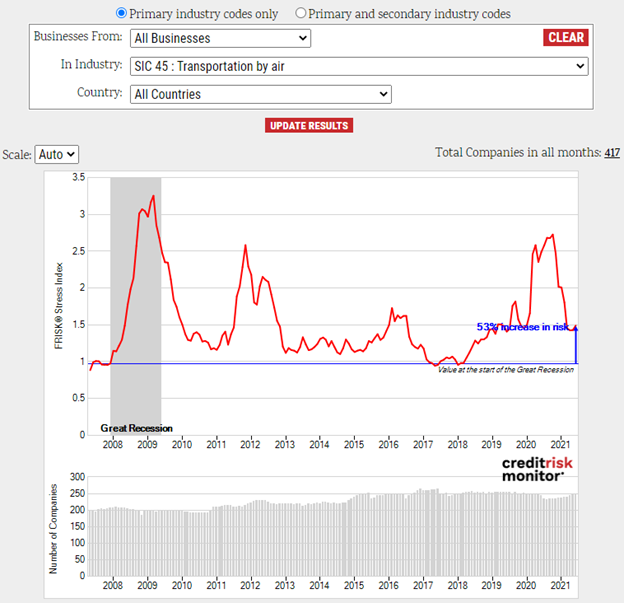 Although aggregate risk has pulled back from the 2020 peak, there is still meaningful risk in the Transportation by Air industry. Notably, the top two names in the table below hail from Brazil, in part due to the fact that South America is currently the most prominent COVID-19 hot spot, according to The Wall Street Journal. Air travel demand is recovering slowly, which will support load factors and eventually lead to historical capacity levels. Yet business travel represented one of the most profitable customer segments, which will continue to be a broader headwind with ongoing work-from-home trends. Of course, certain airline operators are faring better than others, which is where the FRISK® score will highlight individual company bankruptcy risk potential.
| | | |
| --- | --- | --- |
| Company | Country | FRISK® score |
| Azul SA | Brazil | 1 |
| Gol Linhas Aereas Inteligentes SA | Brazil | 1 |
| Transportes Aereos Portugueses SGPS SA | Portugal | 1 |
Horror Movies
Image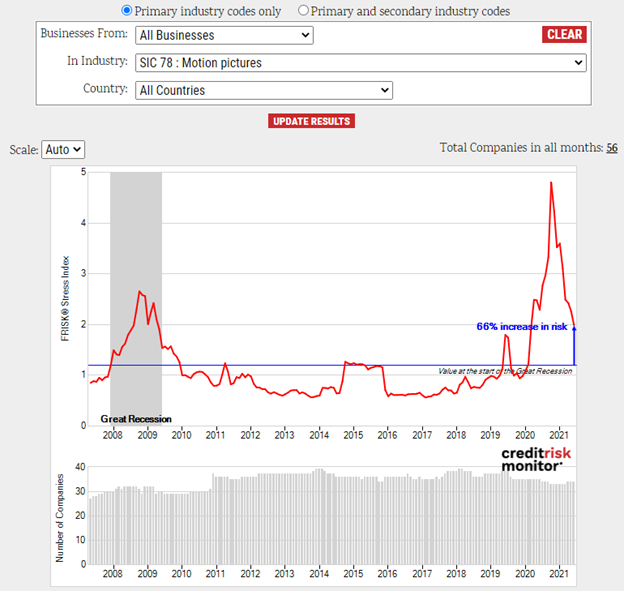 With movie theaters opening again, broader risk has declined. However, structural shifts in consumer demand between movie theaters and streaming services, as well as the shrinking durations between production releases, has crimped profitability. Movie theaters have been required to adjust their location footprints, continuously invest in technology, and provide attractive membership deals to sustain traffic. These three movie industry players continue to trend deep within the FRISK® score red zone as well:
| | | |
| --- | --- | --- |
| Company | Country | FRISK® score |
| AMC Entertainment Holdings Inc. | U.S.A. | 1 |
| Appreciated Media Holdings Inc. | Canada | 2 |
| Cineplex Inc. | Canada | 3 |
Bottom Line
These four industries and 12 distressed operators are just a dozen higher-profile examples within CreditRiskMonitor®'s coverage of 57,000 global companies. Contact CreditRiskMonitor today to see how we can help you stay on top of high-risk accounts in the remainder of 2021.