The global supply chain crisis in 2022 is being intensified by new COVID lockdowns in China. Labor shortages and snarled transportation channels combined with high commodity prices and limited materials are only magnifying the procurement headwinds many companies have been facing over the past two years. 
Businesses that focus on the U.S. market are responding with alternative sourcing strategies, including nearshoring of production and the onboarding of redundant suppliers. Mexican and Canadian businesses are benefitting from this shift and typically offer shorter lead times, lower transportation costs, and oftentimes cheaper labor in the case of Mexico. With concerns over another economic downturn and the zombification of suppliers, procurement teams looking at such a strategic change must protect their supply chains with financially strong vendors.
Gold Plating Your Manufacturing
With the new focus on supply chain durability, companies are seeking out alternative and supplemental vendors to ensure that they can reliably obtain products. According to the U.S. Census Bureau, the U.S. increased imports from Canada by 35% from $270 billion in 2020 to $364 billion in 2021, the highest level ever recorded. The U.S. also expanded imports from Mexico by 18% from $325 billion in 2020 to $385 billion in 2021, also a record level. Trade imports from these two countries also incrementally increased in the early months of 2022 versus comparable periods in the last three years. 
The manufacturing industry, i.e. SIC codes 20 through 39, represents most goods sold to U.S. corporate customers.
The Wall Street Journal reported in April that Mexican factories have gained immensely from supply chain revamping:
"The push for suppliers in Mexico comes as more companies say they are resetting their supply chains by adding suppliers and bringing some production closer to end users. The effort is aimed at bolstering resilience and reliability following a series of shocks to supply networks brought on by Covid-19 outbreaks, port bottlenecks, extreme weather and geopolitical conflicts."
CreditRiskMonitor® has identified Mexican manufacturers with substantial U.S. revenue exposure and top-tier FRISK® scores of "9" or "10," which indicate strong financial health. These vendors are best in class and more likely to obtain additional business from U.S. companies:
| | | | |
| --- | --- | --- | --- |
| Mexican Suppliers | U.S. Sales (Percentage) | FRISK® score | Industry |
| Grupo Cementos de Chihuahua SAB de CV | 73.9% | 10 | Construction - Raw Materials |
| Becle SAB de CV | 65.2% | 10 | Beverages (Alcoholic) |
| Arca Continental SAB de CV | 38.6% | 10 | Beverages (Non-Alcoholic) |
| Grupo Lamosa SAB de CV | 59.6% | 9 | Construction - Supplies & Fixtures |
| GRUMA, S.A.B. de C.V. | 58.4% | 9 | Food Processing |
| Genomma Lab Internacional SAB de CV | 42.9% | 9 | Biotechnology & Drugs |
| Alpek SAB de CV | 39.6% | 9 | Chemicals - Plastics & Rubber |
| Orbia Advance Corporation SAB de CV | 19% | 9 | Chemicals - Plastics & Rubber |
Green FRISK® score suppliers have significant financial resources and carry less risk relative to the average company.
CreditRiskMonitor®'s Trade Contributor Program collects approximately$2.5 trillion in purchasing transactions annually, which are aggregated on the purchasing company to assess historical accounts payable performance and levels. For example, Orbia Advance Corporation SAB de CV reported a significant uptrend in trade payments, which reflects an expansion in inventory purchases.
Image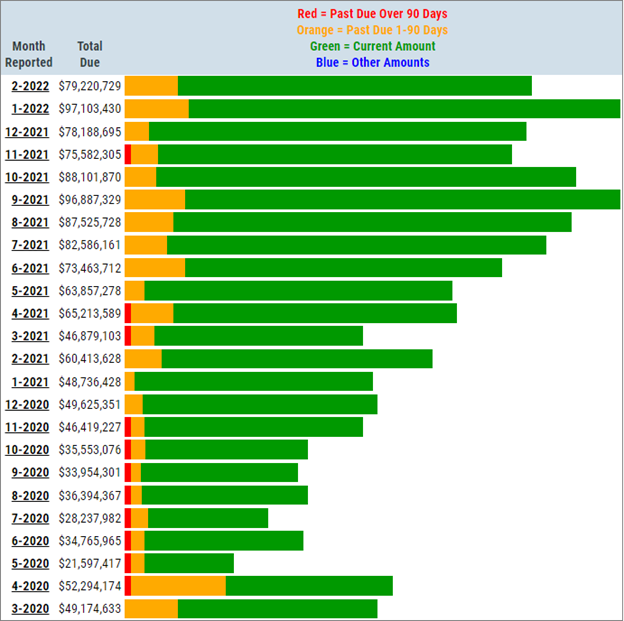 "Canada produces many of the same commodities as Russia and countries are lining up to broker deals."
CreditRiskMonitor® has identified Canadian manufacturers with top-tier FRISK® scores:
| | | | |
| --- | --- | --- | --- |
| Canadian Suppliers | U.S. Sales (Percentage) | FRISK® score | Industry |
| Winpak Ltd. | 80.5% | 10 | Misc. Fabricated Products |
| West Fraser Timber Co. Ltd. | 69.3% | 10 | Forestry & Wood Products |
| Saputo Inc. | 42.8% | 10 | Food Processing |
| Richelieu Hardware Ltd. | 34.4% | 10 | Personal & Household Products |
| CCL Industries Inc. | 31.2% | 10 | Containers & Packaging |
| Nutrien Ltd. | 57.8% | 9 | Chemical Manufacturing |
| ATS Automation Tooling Systems Inc. | 40.6% | 9 | Misc. Capital Goods |
| Magna International Inc. | 23.8% | 9 | Auto & Truck Parts |
Green FRISK® score suppliers are financially durable providing liquidity to manage economic downturns and faster ramping of production versus a typical vendor.
Regarding trade payments for Canadian suppliers, food processor Saputo Inc. reported substantial growth in trade payments. This chart illustrates that the company's accounts payables have increased, which corresponds with inventory purchases.
Image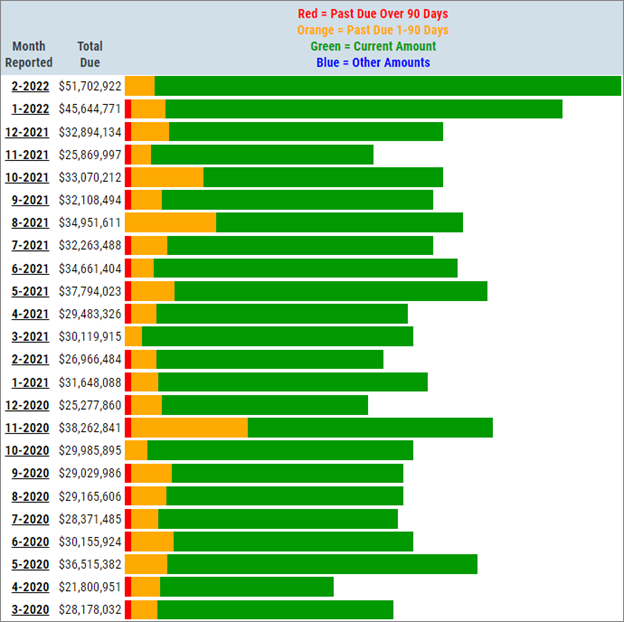 Utilize Industry Peer Analysis
If your company makes purchases out of Eurasia, notably China or now sanctioned Russia, you're likely looking for viable alternatives. For example, if your company manufactures cars and purchases automotive powertrain systems, lighting, and body structures, then you are probably experiencing delivery delays. Supply chain and procurement professionals can find high-quality vendors through our industry peer analysis tool. When you navigate into a supplier's report, the peer analysis section will display all comparable businesses in the industry. Subscribers can directly filter the industry, country, and FRISK® score, among other criteria. In this case, we will choose motor vehicle parts and accessories (SIC 3714) in North America sorted by FRISK® score. This screen produces global auto parts supplier, Magna International Inc., as one of the top results with a FRISK® score of "9."
Image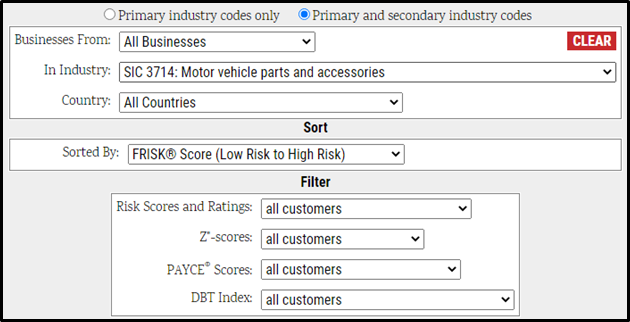 Based on Q4 2021 earnings results, peer analysis shows that Magna International has financial statement ratios that are consistent or better than the broader industry globally. For instance, the company lands in the two middle quartiles and top quartile relative to industry peers.
Image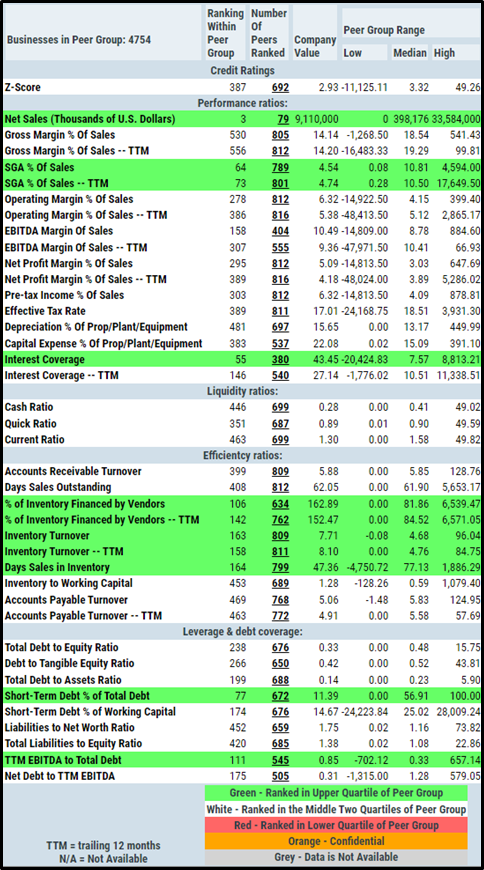 Regardless of your procurement team's needs, our company evaluations can be transformed into a one-page summary or downloaded as a detailed 250+ page report. Moreover, corporate supply chains also frequently use our API to integrate our daily updating risk analytics and other data into their workflows. 
Bottom Line
Considering all variables, it is unlikely that global supply chain issues will resolve themselves anytime soon. Companies must prepare for the worst by improving their supply chain's resiliency now. It is crucial to mitigate vendor and logistical disruptions. While finding low-cost suppliers does support margins, especially in the current inflationary environment, product availability is more valuable. Intelligent procurement teams are actively rearranging their counterparties, building redundancies, and outright replacing suppliers where possible. Contact CreditRiskMonitor to learn how you can use the FRISK® score, peer analysis, and much more to revitalize your supply chain as soon as possible.